June 2, 2021
---
Reading Time:
3
minutes
Can a 20-years-old guide still be actual and provide insights that resonate with modern managers? Indeed, it can! Leadership skills for women delivers over 90 pages of exercises and ideas that will help all aspiring managers, women as well as men, to achieve valuable self-knowledge to boost their career.
The authors foreword anticipates this as a "book to read with a pencil" (p.vii): thought out its pages it guides the readers from the discovery of the qualities that make people leaders to the learning of key skills, via the unique challenges and opportunities that leader face, with direct consideration to women managers.
The workbook opens by listing the characteristics of the effective leader: values intuition, ethical believes and great listening skills are what differentiate a leader from a follower.
Of great insight are the 2 core leadership styles that can be recognised in leaders: the "Quite style", that divides in The Supporter & The Perfectionist and the "Outgoing Style" which includes The Director and The Motivator – simple and easy to follow indication of characteristics and preferences that can be observed and reflected upon.
The statement "your attitude as a leader will set the pace and the tone for your employees" (p.10) sets the expectations high and the authors suggest that conflicts raising directly from the private sphere will lead to stress to trickle in the business life affecting one's own effectiveness as a leader.
Management evolves around "planning, organising, staffing and controlling" (p. 13) and those four basic functions are essential to both man and women to become effective leaders.
It is not until page 15 that the authors begin to address unique challenges that women leaders face: by listening the stereotypes the readers are guided to truthfully ask themselves if they have engaged in such stereotype and what resolutions could be taken to change perception. Accepting that some of the challenges are differently worded today, I have wonder if the stereotypes are still actual despite the semantic. "Women are too picky" or "women are difficult to work for" are surely some two I have found myself confronting.
The workbook reads easily and it can be completed in 2-hour setting or over a few sessions, depending on what the reader is really searching for.
Insights on team players types (p.24), values as motivators (p.27), time management (p.37) create an active workbook. The reader can get fully involved by naming individual team member, list traits that makes them difficult and then work out effective resolution techniques such as coaching and feedback (p. 51)
Very Interesting the notion to use Positive Anger in conflict resolution and the proposition that women, being raised to "be nice", are directly challenged in using this technique. The ethics that guide "raising girls" continue to resonate in most contemporary discussion around women leadership. The benefits of leadership that the authors provide e.g. leading a more interesting life thanks to the ability to travel, could be modernized in a new edition by including closing pay-gap and increase equality in participation, without decreasing the great insight offered by this useful workbook.
LEADERSHIP SKILLS FOR WOMEN
Boost your career with new techniques and skills.
Marilyn Manning and Patricia Haddock
Kogan Page – Better management skills
(1999)
96 pages
ISBN: 0749427310
Interactive Worksheets
Further Reading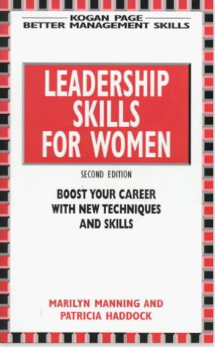 ---